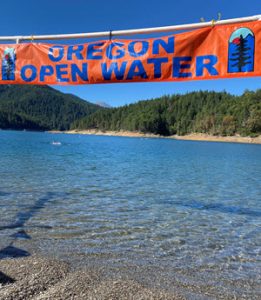 Register now for the 2023 event!
Each year Rogue Valley Masters hosts an open water swim series at beautiful Applegate Lake in Southern Oregon.
This year the 10k is the 2023 U.S. Masters Swimming Marathon-Distance Open Water National Championship!
The 10k, 5k and 2.5k events take place on Saturday, July 15, 2023. The 1500m and 3x500m Pursuit Sprint Relay are on Sunday, July 16th, 2023.
We are looking forward to seeing you there.
Water temperature is usually perfect (in the mid-70s) and the scenery is unbelievable! Please join us for an incredible weekend in the beautiful mountains of Southern Oregon.
The registration link is also posted on the Oregon Masters Swimming website.
Follow the below link for directions to Applegate Lake from Medford:
Directions to Applegate Lake from Medford
This event is authorized under a special use permit by the Rogue River-Siskiyou National Forest.
The 2023 U.S. Masters Swimming Marathon-Distance Open Water National Championship is sponsored by: